James E. Dunford Named American Public Television President and CEO
Public media veteran of PBS and GBH will serve as the organization's fifth leader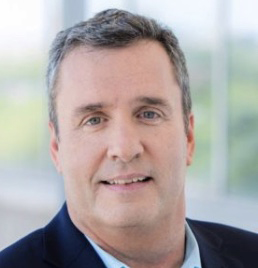 BOSTON, MA (May 23, 2023)
– The Board of Trustees of American Public Television (APT), the leading syndicator of content to U.S. public TV stations nationwide, announced today that James E. Dunford will become the next president and CEO of APT, effective June 12. He succeeds Cynthia Fenneman, who has led APT since 2001 and will retire in early June. Dunford will lead a team of nearly 40 staff who annually offer nearly 250 new and returning series and specials available for broadcast and streaming via the company's Exchange, Syndication and Premium Service programming services; represent and license content internationally via APT Worldwide; and distribute multicast channels Create and WORLD to the public television system.
"The opportunity to join APT at this moment of rapid change in media and to work in service of and in concert with public media stations to help them remain sustainable, valuable and relevant is a particular honor," said Dunford. "I am excited to join the team and build on the APT legacy of delivering award-winning content from a diverse collection of producers and partners to audiences."
APT's programming content catalog includes prominent documentary series such as
AfroPoP
and
Pacific Heartbeat;
performance programming such as
Front and Center;
drama acquisitions including
Midsomer Murders, The Indian Doctor
and
Doc Martin;
how-to and lifestyle programs including
America's Test Kitchen
and
Cook's Country, The Best of the Joy of Painting
with Bob Ross,
Lidia's Kitchen, Rick Steves' Europe, Christopher Kimball's Milk Street Television, Legacy List with Matt Paxton, Kevin Belton's New Orleans Kitchen;
classic film packages; and news and current affairs programs including
NHK Newsline.
"Jim immediately identified APT's 'concierge service' as an intrinsic cornerstone of APT's business practices," noted Mare Mazur, APT Board of Trustees chair and Vegas PBS president and general manager. "With his long and unwavering dedication to station success combined with his creative problem-solving, Jim emerged as the ideal candidate to carry forward Cynthia's remarkable legacy and capitalize on the potential that lies ahead."
"For more than 60 years, APT has provided iconic programming content and has remained a nimble and dynamic enterprise with recent digital initiatives from streaming to APT Podcast Studios," said APT president and CEO Cynthia Fenneman. "Jim's tremendous experience in production, programming and station needs will lead the way for APT as public media navigates an ever-changing media landscape and APT remains true to its mission to help stations succeed."
Dunford comes to APT with extensive public media expertise at both local and national levels. Since 2019, he has served PBS in the role of Senior Vice President, Station Services, developing and overseeing system-wide strategic initiatives around leadership, digital competence and fundraising for PBS's 335 member stations. Dunford joined PBS in 2016 as Vice President, Programming and Operations, where he was responsible for the leadership of PBS content services and operations in support of PBS's award-winning programming. In addition, Dunford supported content strategy, planning and analysis, and he managed several high-profile projects, including the station-focused engagement campaign for "The Great American Read."
Prior to joining PBS, Dunford held a variety of roles at GBH in Boston, including Managing Director for PBS history series
American Experience,
where he led strategic planning for content distribution and presentation, audience development, promotion, communications, post production and digital production. Prior to assuming that role, Dunford managed all activities of the WGBH Board of Trustees as Director of Board Relations and Development Operations; as well as Series Manager and Post Production Director for
American Experience.
Dunford is a graduate of Boston College, where he also served as a member of the adjunct faculty. In that role, he oversaw course design and delivery of communications-related courses in the College of Arts and Sciences, including Broadcast Writing and Broadcast Programming. He is a member of the National Academy of Television Arts and Sciences, and his work has earned awards from Promax and the Webbys.
This appointment follows a rigorous national search, selection, and approval by the APT Search Committee, ratified by the APT Board of Trustees. The Board was assisted by Spencer Stuart, a global executive search and leadership advisory firm. Members of the search committee included Board Chair Mare Mazur and Board Treasurer Linda O'Bryon; and trustees Lisa Shumate, Houston Public Media general manager; Neal Shapiro, CEO of The WNET Group; and Ronnie Agnew, New Jersey Advance Media general manager.
###
About APT:
American Public Television (APT) is the leading syndicator of high-quality, top-rated programming to the nation's public television stations. Founded in 1961, APT distributes 250 new program titles per year and more than one-third of the top 100 highest-rated public television titles in the U.S. APT's diverse catalog includes prominent documentaries, performance, dramas, how-to programs, classic movies, children's series and news and current affairs programs.
Midsomer Murders, America's Test Kitchen, AfroPoP, Rick Steves' Europe, Pacific Heartbeat, Christopher Kimball's Milk Street Television, Front & Center, Lidia's Kitchen, Kevin Belton's New Orleans Kitchen, Simply Ming, The Best of the Joy of Painting
with Bob Ross, James Patterson's
Kid Stew
and
NHK Newsline
are a sampling of APT's programs, considered some of the most popular on public television. APT also licenses programs internationally through its APT Worldwide service and distributes Create®TV — featuring the best of public television's lifestyle programming — and WORLD™, public television's premier news, science and documentary channel. To find out more about APT's programs and services, visit APTonline.org.
Press Contacts:
Olivia Wong
APT Vice President, Marketing & Communications
Olivia_Wong@APTonline.org
Ajani Martin-Abascal
Marketing & Communications Associate
Ajani_Martin-Abascal@APTonline.org