APT Statement on the Passing of American Public Television's Second President John S. Porter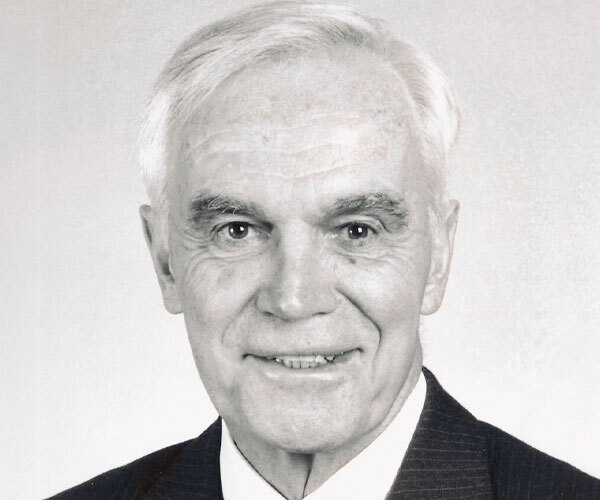 BOSTON, MA (May 16, 2023)
– American Public Television (APT), the leading syndicator of content to U.S. public TV stations nationwide, honors the life and legacy of its former President John S. Porter, who passed away on May 5, 2023 at the age of 90 in Hingham, Massachusetts.
He served for more than 30 years at Eastern Educational Television Network (EEN), d/b/a American Public Television (APT), and previously known as the Interregional Program Service (IPS), and the American Program Service (APS). Mr. Porter's involvement began as a trustee of EEN in 1966. He assumed leadership as executive director in 1969 and served as president of IPS and APS until his retirement in 1998.
"We gratefully acknowledge John's insightful and entrepreneurial leadership that developed EEN to a position of prominence, and then guided its evolution to a vital, necessary, national alternative program service whose hallmark is quality public television," said APT President and CEO Cynthia Fenneman, who became the fourth leader of APT in 2001. "We celebrate and remember his tremendous pioneering impact in public media and his vision that serves as the foundation for this company now and for years to come." During his tenure, the company achieved many television and public media milestones, including distribution of the nation's first daily, live, non-commercial news program
Newsfront;
the first major acquisitions from British Broadcasting Company (BBC), Canadian Broadcasting Company (CBC) and other key suppliers; and the launch of iconic shows on U.S. public broadcasting including
Monty Python's Flying Circus, The Joy of Painting with Bob Ross, Nightly Business Report, Travels in Europe with Rick Steves, Perry Como's 1994 Christmas Special – Live from Ireland,
and
Lord of the Dance.
Mr. Porter oversaw the transition of EEN as a regional distributor to public media station in New England and the Northeastern U.S. to a national distributor of hundreds of new titles per year. Mr. Porter began his television career as a producer of instructional television programs for the Rochester Area Educational Television Association (RAETA). He moved into public media at WROC-FM in Rochester, NY in 1964 as producer/narrator of a weekly series, then became president and general manager of the city's public TV channel WXXI from 1966-1969. He served as a trustee of EEN from 1966-1968. EEN was the first of four regional networks and embraced a 12-state region stretching from Maine to Virginia with 26 member licensees. In 1967, Mr. Porter, other EEN trustees and general managers at the Northeast and Mid-Atlantic public television stations established the first live interconnection network.
Mr. Porter, a 2010 recipient of the American Public Television Lifetime Achievement Award, was a former member of the New York Educational Radio/Television Association, the Public Television Station Managers of New York State and the National Association of Educational Broadcasters. Mr. Porter was a 1st lieutenant in the United States Air Force from 1952-1956. He graduated from St. John Fisher University with a Bachelor of Arts in English and Syracuse University with a Master of Science in Radio/Television.
John leaves his wife Marie and five sons: Stephen (Carol), David (Tiem), Mark (Beth), Kevin (Danielle) and Matthew (Donna); seven grandchildren (Sara, Terri, Hannah, Melissa, Lily, Michael and Benjamin) and seven great-grandchildren.
A Mass of Christian Burial will be celebrated for John on Friday, May 26, 2023 at 12:00 PM, at St. Paul's Catholic Church, 147 North Street, Hingham, MA. Visiting hours will be immediately prior to Mass, from 10:30-11:30 AM, at Pyne Keohane Funeral Home, 21 Emerald Street, Hingham, MA.
In lieu of flowers, donations may be made in his name to St. John Fisher University in Rochester, NY, his beloved alma mater.
###
About APT:
American Public Television (APT) is the leading syndicator of high-quality, top-rated programming to the nation's public television stations. Founded in 1961, APT distributes 250 new program titles per year and more than one-third of the top 100 highest-rated public television titles in the U.S. APT's diverse catalog includes prominent documentaries, performance, dramas, how-to programs, classic movies, children's series and news and current affairs programs.
Midsomer Murders, America's Test Kitchen, AfroPoP, Rick Steves' Europe, Pacific Heartbeat, Christopher Kimball's Milk Street Television, Front & Center, Lidia's Kitchen, Kevin Belton's New Orleans Kitchen, Simply Ming, The Best of the Joy of Painting
with Bob Ross, James Patterson's
Kid Stew
and
NHK Newsline
are a sampling of APT's programs, considered some of the most popular on public television. APT also licenses programs internationally through its APT Worldwide service and distributes Create®TV — featuring the best of public television's lifestyle programming — and WORLD™, public television's premier news, science and documentary channel. To find out more about APT's programs and services, visit aptonline.org.
Press Contacts:
Olivia Wong
APT Vice President, Marketing & Communications
Olivia_Wong@APTonline.org
Ajani Martin-Abascal
Marketing & Communications Associate
Ajani_Martin-Abascal@APTonline.org