APT PitchFest 2019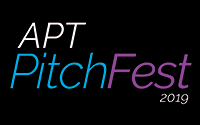 American Public Television (APT), the leading syndicator of content to U.S. public television stations, opened APT PitchFest 2019 -- an initiative designed to find strong, innovative new programming for public television viewers -- on Friday, August 16. The contest will close Friday, October 4 at 11:59 p.m. APT will award a Grand Prize in production funds for this year's APT PitchFest 2019. Recognizing the importance of quality fundraising content, APT PitchFest 2019 will seek entries for promising pledge programs for public television.
Finalists will vie for the Grand Prize at APT PitchFest Live 2019! during APT's Fall Marketplace in Scottsdale, AZ, on November 11–14, 2019. Fall Marketplace is the annual conference that showcases up to 100 new content offers to public television stations.
APT will be looking for outstanding pledge proposals, pilots, or programs in production needing finishing funds or co-production money.