Congratulations to our 2018 Winners! Please check this page for dates and plans regarding APT PitchFest 2019 later this summer.
APT PitchFest 2018 Submission Materials & Guidelines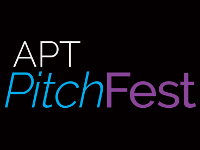 American Public Television (APT), the leading syndicator to U.S. public television stations, has launched the APT PitchFest 2018, an initiative designed to find strong, innovative new content for public television viewers. APT will award a Grand Prize of up to $75,000 in production funds. The inaugural APT PitchFest seeks entries for promising fundraising programs for public television.
Finalists will vie for the Grand Prize at PitchFest Live! during APT's Fall Marketplace in Baltimore on November 5 – 8, 2018. Fall Marketplace is the annual conference which showcases up to 100 new content offers to the public television stations.
APT is looking for outstanding pledge proposals, pilots, or programs in production needing finishing funds or co-production money.
The submission period opens August 9, 2018 and closes September 27 at 11:59 p.m. ET. Entrants are encouraged to submit at any time during this period.
Finalists will competitively present their projects to a panel of seasoned content executives at APT PitchFest Live!, held November 8, 2018 during APT Fall Marketplace. The finalists will be judged on multiple points, including the quality of the proposal, chance of success, innovative aspects, and the execution of their pitch.
The winner will receive the Grand Prize with an award ranging up to $75,000 in production funds, plus assistance in bringing the content to fruition, anticipated distribution access to the U.S. public media market via APT, a free registration to APT Fall Marketplace 2019, and additional production benefits.
The winner of APT PitchFest Live! will be announced November 8, 2018 at the close of the pitch session.
Online entry form for this open call can be found at https://APTonline.org/PitchFest/Entry.
Pledge program

Up to $75,000 for a promising pledge show with some innovative twist either in content, thank you gift, experience, production, online, digital extension, etc.
Will accept proposals for content in development, production, post-production, even completed works
The judges will be open to all proposals. However, entrants should recognize that a key audience is boomers. If an entrant chooses a younger demographic, s/he should be explicit in how the program will be successful in motivating a younger age-group to support public television via membership.
Any submissions with a medical or self-help focus must provide information reflecting the solid credentials of the host, key on-air people and the content advisors. This information may be subject to additional vetting.
Initial Review Rounds Criteria
The preliminary and second round reviews are done by an internal APT panel.
Criteria for PitchFest 2018 judging will include:
Strong probability for success in fundraising
Public media viability and broad appeal
Exceptionally compelling content
Appealing, respectable host/talent
Original or innovative content or aspect

Innovative approach – possible game changer in how pledge is executed
Clever, compelling thank you gift or other fulfillment

Marketing savvy
Feasibility of the project with respect to its production team, scope, financing, budget and timeline
Availability of rights for linear live streaming, Passport, streaming for public television station websites, as well as marketing and social media purposes
Judges' scoring will be as follows:
10: Excellent, world class, game-changing, mind-blowingly brilliant
9: Industry-leading, buzz-worthy
8: Category-beating, idea-to-steal caliber
7: Great, attention-getting
6: Good, impactful
5: Solid, average yet noticeable
4: Competent, but lacking impact
3: Not memorable
2: Poor execution and idea, not good use of resources
1: Not at all appropriate, or potentially damaging to pub media brand image
Terms and Conditions
APT will likely take rights in the selected project(s) and will expect a revenue share in any profits from the project including ancillary products. Winners will be required to execute appropriate paperwork to receive payment.
All finalists for APT PitchFest at Marketplace must be registered for Marketplace, if they attend more than the actual APT PitchFest Live! event. If you become a finalist, you must agree to attend Marketplace on November 7 - 8, 2018 for rehearsal and the live pitch event. Failure to do so will result in your project being withdrawn. Finalists' pitches are a maximum of seven minutes including elevator pitch, video or other visuals, oral presentation and Q&A. Must be willing to accept prize if you become the Grand Prize Winner.
The winning program must be ready for distribution in accordance with APT's general standards and practices. Timelines include (if via APT Exchange) completion by March 2019 for distribution in Fall 2019 or later; by May 2019 for distribution by November 2019 or later; or by September 2019 for distribution in spring 2020 or later. Or, if via APT Premium Service, completion and ready for distribution preferably by March 2019 or June 2019; or possibly by August 2019, December 2019 or March 2020.
APT accepts no liability for project inaccuracies in any published materials.
The decision of the APT Review Committee and Panelists is final. No correspondence will be entered into regarding decisions. Feedback is not guaranteed for unsuccessful applicants.
APT reserves the right to change the guidelines, deadlines or processes at any time and without notification.
APT does not guarantee distribution of the winning program; if the program is completed and APT does not distribute the winning program by July 2021, it will release all distribution rights to Entrant.
Projects participating in APT PitchFest are required to acknowledge the program's support through the placement of APT's logo in the project's final credits and in ancillary and promotional material.
If the entry is successful in being distributed by APT, independent producers will need to secure a presenting station or APT Presentations for APT Exchange distribution.
Applications may be deemed unacceptable if they are longer than requested four pages.
APT PitchFest Live! may be taped for use as APT sees fit. Finalists must sign a speaker waiver prior to the event.
The winning project must credit American Public Television in its funding credits to comply with FCC guidelines for full disclosure.
Winning projects cannot be distributed in the US before the public television broadcast period unless you receive permission from APT.
Submission materials and productions must be in English.
Entrant must be 21 years of age or have parent/guardian permission.
Application to, and participation in, APT PitchFest implies unconditional acceptance of these guidelines.
By submitting your entry, you confirm that you hold the intellectual property and rights for the project – or the project is majority owned by the applicant - and have freely decided to submit the program and be eligible to be a finalist on APT PitchFest Live! at APT Marketplace.
Contact us if you have any questions.
APT PitchFest Submission Materials:
Preface:
"Entrants" (or "Participants") in APT PitchFest agree to give APT the right of first refusal for distribution of its Program to U.S. Public Television Stations and other rights that will be defined in a Deal Letter and subsequent Program License Agreement (the standard process for APT programming). Depending on the nature of the project, APT may require a right to financial participation in revenues derived from such distribution and ancillary products. Entrants (or "Participants") must provide the following:
Give working title, short description, length, stage of project
Submit ONLY one page each of the following (ONLY four pages total).
Be sure to provide all of the information listed below in a clear, concise manner:

Page 1: Content Synopsis including:

One sentence overview
Detailed description including:

format (and its segments/acts)
content and arc of the:

20-60 minute program (for 30-90 minute footprint pledge show),

innovative and promising aspects

Status report including:

access to key talent and interview subjects
stage of the proposal or production

Rights:

availability of rights for linear live streaming, Passport (public television's member VOD platform), streaming on public television station websites, as well as for marketing and social media purposes
brief description of territories in which program will be available

Page 2: Budget

Line item detail of budget, including E&O insurance
Funding plan including confirmed financing, partnerships, in kind donations, as well as pending financing and prospects.
(See APT's underwriting guidelines.)

Page 3: Bios including:

Previous production credits, work, education for host(s), exec in charge
Top line production team details

Page 4: Production timeline

Submit your four page (no longer!) proposal as well as video of trailer, pilot, completed program, host video, and/or key on-air talent videos to https://APTonline.org/PitchFest/Entry
Provide your contact information including email, phone number, address
Indicate your agreement to appear as finalist at APT PitchFest Live! at Marketplace, if chosen

Be available to come to APT Marketplace in Baltimore on November 5-8, 2018 (Wednesday, November 7 afternoon through Thursday, November 8 midday are the mandatory days)
Come prepared to present live pitch, with deliverables due October 15